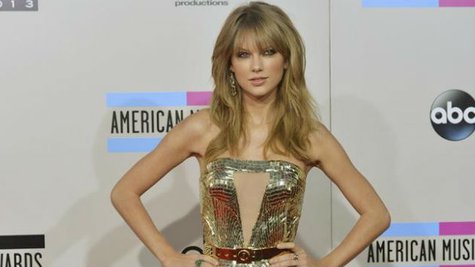 It should come as no surprise that Taylor Swift comes in at #68 on The Hollywood Reporter's new list of the 100 Most Powerful Women in Entertainment. What is surprising is that she has to share that ranking with five other female pop stars.
Taylor is included on the publication's "Power 100" list at #68 collectively with Lady Gaga, Katy Perry, Rihanna, Beyonce and Miley Cyrus -- all six are lumped under the heading of "The Pop Stars."
By way of explaining why they've made the list, which is mostly made up of female executives, The Hollywood Reporter cites the women's collective earning power, their domination of the charts and their visibility in the media. Taylor gets props for the sales of her album Red ; Gaga's included because of her promotional campaign for Artpop . The success of Katy's "Roar" is mentioned, as is the string of hit singles Rihanna has generated from her last album.
Beyonce, meanwhile, makes the cut due to her $100 million-grossing tour. And Miley's there due to the sales of her album Bangerz and the anticipation for her upcoming world tour.
But pop stars aren't the only ones who have to share their rankings. Coming in at #11, collectively, are Jennifer Lawrence, Sandra Bullock and Melissa McCarthy, under the heading "The Box Office Queens."
Copyright 2013 ABC News Radio