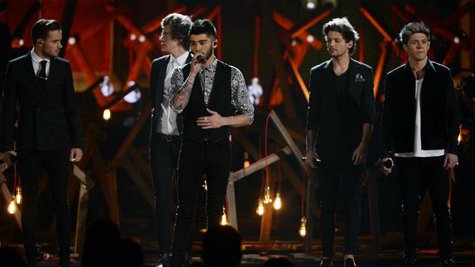 You'd be forgiven for thinking that the only people who ever go on Twitter are One Direction fans, based on the number of times the group appears on the social networking site's list of the most retweeted entertainment postings of the year. According to USA Today , out of the top five most - shared tweets, the 1D lads take up slots three, four and five.
In at #3 is Niall Horan's declaration that he'd turned 20, which was shared 367,000 times. In at #4 is a photo that Zayn Malik took of a sleeping Harry Styles , with the caption, "Harry, wake up!" 326,028 people retweeted that one. And number five is Zayn's announcement of his engagement August 13 to Little Mix 's Perrie Edwards , in which he wrote, "Never been more happy in my life ! Thank you to everyone that has been so lovely about my engagement to my beautiful fiance!" That was shared 320,949 times.
By the way, the top two most-shared tweets were from Lea Michele , breaking her silence after Cory Monteith's death, and a tweet confirming the death of Fast & Furious star Paul Walker .
Elsewhere, the most tweeted entertainment moment was -- surprise -- Miley Cyrus' MTV VMA performance, which generated 306,100 tweets per minute. Beyonce 's Super Bowl halftime performance was also one of the top-five most-tweeted moments of the year, with 268,000 tweets per minute.
Meanwhile, according to USA Today, other stars who won Twitter in 2013 include Katy Perry , who added 15 million followers in the past year; Justin Bieber , who added 13.8 million, Taylor Swift , who grabbed 13.4 million, and Justin Timberlake , who amassed 12.4 million additional followers. Other celebrities who added millions more twitter followers this year: Jennifer Lopez , Britney Spears , Demi Lovato , Pink , and Harry Styles .
Copyright 2013 ABC News Radio