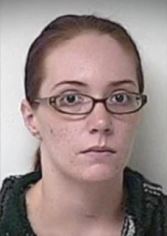 The mother of a murdered Illinois girl was in court Tuesday on charges that she lied during the investigation into the death of her daughter.
Ciara DeRyke is charged with obstructing a peace officer when she said she was with he daughter the morning she was reported missing when in reality she was not.
Investigators don't believe Ciara was involved in her daughter's murder.
Her brother Justin DeRyke is accused of Willow's murder.
She could be sentenced to a year in prison if convicted of the charge.
DeRyke is being held on $75,000 bond and will be back in court next week.