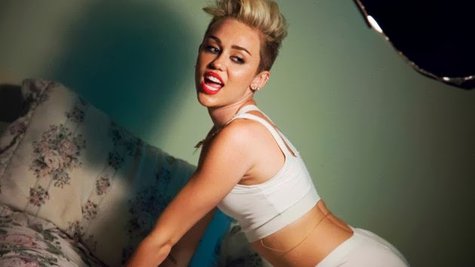 Miley Cyrus will be one of the featured performers on Dick Clark's New Year's Rockin' Eve with Ryan Seacrest 2014 , and the show host swung by Jimmy Kimmel Live! Wednesday night to discuss the telecast.
"She truly has made a lot of headlines this year, so she's going to perform in Times Square, and we'll see what happens," Seacrest said of the "We Can't Stop" singer.
However, given her skimpy outfit while twerking with Robin Thicke at the MTV VMAs or her complete lack of any outfit during her "Wrecking Ball" video, Kimmel had a concern. "Now if she's almost naked like she usually is in Times Square on New Year's Eve...she's going to die. She is going to die on your show, or at least gonna get frostbite of some kind."
"I'm wondering what she'll wear," Seacrest admitted, "...and we'll see what she gonna wear in Times Square. But we're excited to have her and so many artists."
Capital Cities , Daughtry , and Florida Georgia Line are also among the performers lined up for the annual ABC broadcast. The fun gets underway Tuesday night, December 31 staring at 8 p.m. ET., with Dick Clark's New Year's Rockin' Eve with Ryan Seacrest 2014 officially kicking off at 11 p.m. ET with Seacrest counting down live from Times Square.
Copyright 2013 ABC News Radio