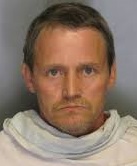 An Indiana man pleaded guilty to serial armed bank robbery in Illinois.
49-year old Ronald Corbin admitted committing four separate bank robberies between August and September of this year.
Corbin is also accused of robbing two Indiana banks in Lafayette last year and Frankfort in October this year.
If the court accepts the plea deal on the Illinois charges, Corbin will receive 39 years and 3 months in federal prison when he's sentenced in April, 2014.
Charges against Corbin's accused accomplice, Dennis Gallivan, are pending.