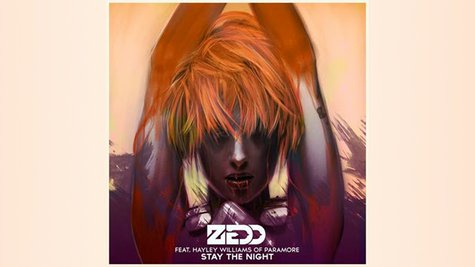 Hayley Williams is in the unusual position of having not one, but two hit records on the charts at the same time. With Paramore , she's got "Still Into You," but her collaboration with Zedd , "Stay the Night," is also a big hit. And Hayley says she considers the Zedd song a unique way to introduce people to the fact that she's actually in a band.
"I think to me, the coolest part is using it as an opportunity to bring in more fans and show them, 'OK, Hayley from Paramore. What's Paramore? Paramore is this band that's been around for 10 years now,'" the singer explains to ABC News Radio. And it turns out that's exactly what's been happening.
"I actually just told [that to] a kid on Instagram," says Hayley. "He's like, 'Are you that singer from 'Stay the Night?' I was like, 'Yes, I'm in a band and we're the best band that's ever been around!'"
"To me, that's so cool that people are still finding out who we are," she adds, saying that "Stay the Night" was "not only is a great song that I really loved, but it's an opportunity for people to find out more about who we are as a band."
"Stay the Night" reached #1 on the Billboard Dance chart, and has climbed into the Top 20 on the Billboard Hot 100. "Still Into You" peaked at #24, but is the biggest pop hit of Paramore's career.
Copyright 2013 ABC News Radio