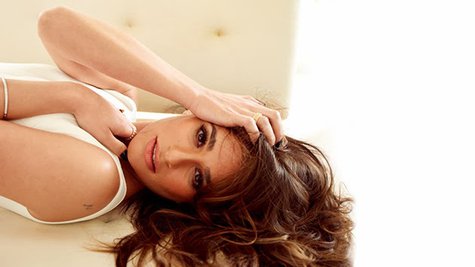 Rock and Roll Hall of Famer Stevie Nicks famously visited the set of Glee when the show did a tribute episode focused on her band Fleetwood Mac 's landmark album, Rumours. Now, Glee star Lea Michele says that it was Stevie who helped her heal following the death of her co-star and real-life boyfriend Cory Monteith , who died of a drug overdose over the summer.
"I had so many amazing people reach out to me, there for me through all of this. And I had the pleasure of having Miss Stevie Nicks call me when Cory passed away and she was so wonderful," Lea tells MTV. "She sent me the most beautiful letter, as well a necklace that was hers and a beautiful book of pictures."
According to Lea, Stevie is "so insightful, so incredible," and explains that in the letter, the legendary singer told her that she would find the strength to get through the tragedy through music.
"And at the time, it was very early in everything and it was sort of hard to grasp on to the fact that anything could help," Lea adds. "But she was right. [Music] is and it has and it will continue to be my source of strength in all of this." Exhibit A: her new single, "Cannonball," which she sings, "And now I will start living/Today/I close the door/I got this new beginning and I will fly, I'll fly/Like a cannonball/Free now."
"It has been, by far, in all honestly, the worst year of my life and I'm thankful that ['Cannonball'] is out now to create some light and positivity and joy at the end of the year," Lea told MTV. "I think that somehow through all of that, this [song] came out and it is an incredible representation of who I am, what I feel and how I'd like to come out of the gate as an artist."
Copyright 2013 ABC News Radio