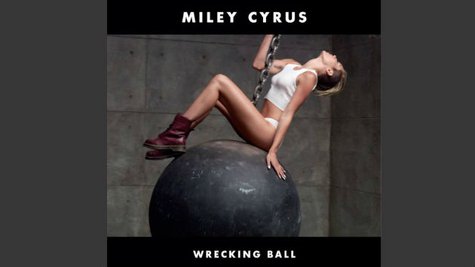 What makes a great karaoke song? A big, dramatic ballad with a huge chorus. That's no doubt part of the reason Miley Cyrus' #1 hit "Wrecking Ball" has been named the #1 karaoke tune in the U.K. for 2013.
The Irish paper The Independent reports that "Wrecking Ball" was the most popular choice of the over 8,000 songs that were sung more than 3.5 million times by the users of LuckyVoice.com , the website for Britain's biggest chain of karaoke clubs. The second most-popular tune? "Roar" by Katy Perry, followed b PSY's hit "Gangnam Style." Katy's "Firework" was also in the top 10.
The only "classic" songs on the list were perennial favorites "Bohemian Rhapsody" by Queen and Bon Jovi's "Livin' on a Prayer." Hey, even Prince William sang the latter one on stage last week. Of course, he sang it with Jon Bon Jovi , and with Taylor Swift joining them, but still.
Here are the top 10 most popular karaoke songs in the U.K. for 2013, according to LuckyVoice.com, along with the percentage vote each song received:
1. "Wrecking Ball -- Miley Cyrus (6.2%)
2. "Roar -- Katy Perry (5.4%)
3. "Gangnam Style" -- Psy (4.2%)
4. "Call Me Maybe" -- Carly Rae Jepsen (4.1%)
5. "Someone Like You" -- Adele (3.6%)
6. "What Makes You Beautiful" -- One Direction (3.1%)
7. "Firework" -- Katy Perry (2.1%)
8. "Bohemian Rhapsody" -- Queen (2.0%)
9. "Blurred Lines" -- Robin Thicke Feat. TI & Pharrell (1.8%)
10. "Livin' On a Prayer" -- Bon Jovi (1.6%)
Copyright 2013 ABC News Radio