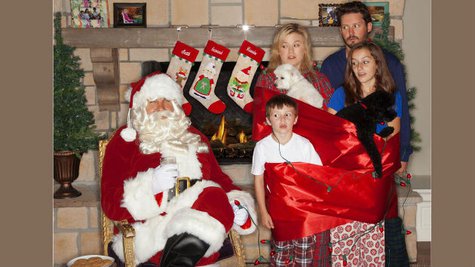 Kelly Clarkson showed she doesn't take herself too seriously by staging a comical family photo for her Christmas card this year.
The singer tweeted the photo on Tuesday: it shows herself, her husband Brandon Blackstock , their two dogs, and Brandon's two children, Savannah and Seth , all wrapped up in a big red ribbon and Christmas lights -- similar to the way you'd tie up a criminal with a rope. They're standing in front of a fireplace, giving the side-eye to Santa Claus, who's smiling, looking pleased as punch at what presumably is his evil handiwork: he's got the string of lights that's tying up the family in his hand.
"Merry Christmas from the Blackstocks," Kelly tweeted. "Share your photos for a chance to win!" Kelly's asking her fans to upload their own family holiday photos, from which she'll pick her favorites. Those lucky fans will receive autographed vinyl copies of her Christmas album Wrapped in Red.
One of the dogs pictured in the photo appears to be Kelly's beloved Joplin , a black poodle mix who passed away in November, so the photo clearly was taken prior to then.
Copyright 2013 ABC News Radio