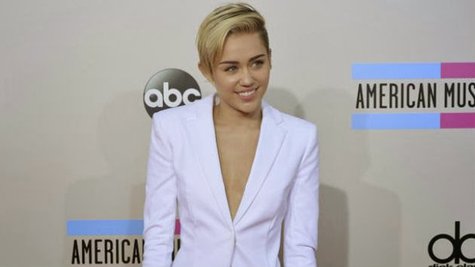 It's official -- 2013 has been the year of Miley Cyrus , at least according to MTV. The cable network has placed Miley atop it's list of the ten "Best Artists of 2013."
"Whether it was the tongue, the twerk-tastic VMA performance or the Terry [ Richardson ] photo shoot, there's no denying there was a method to Miley's madness, the kind that could only be orchestrated by a 21-year-old who's been in the business for nearly a decade," wrote MTV on it's website . "She schooled -- and shocked -- us all in 2013, and did so on her own terms. All hail the new Queen of Pop."
Macklemore & Ryan Lewis took second place on MTV's list thanks to two #1 singles -- "Thrift Shop" and "Can't Hold Us" -- as well as the gay-rights anthem "Same Love." Justin Timberlake came in third thanks to two chart topping albums, a joint tour with Jay Z and his VMAs reunion with 'NSYNC .
Here's MTV's Best Artists of 2013:

1. Miley Cyrus
2. Macklemore & Ryan Lewis
3. Justin Timberlake
4. Kanye West
5. One Direction
6. Katy Perry
7. Drake
8. Bruno Mars
9. Lorde
10. Lady Gaga
Copyright 2013 ABC News Radio