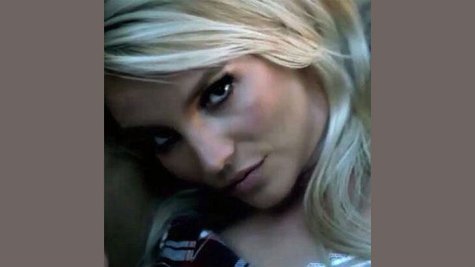 "Had to dig deep and really play with some acting chops for this one!" That's what Britney Spears tweeted about the video for her latest single, "Perfume," and in the newly premiered clip , she actually does have to portray a character: a woman whose hunky boyfriend appears to be cheating on her with an ex.
In the clip, Britney is seen hanging with her guy, stripping off her clothes and swimming in a motel pool, drinking beers on the roof and lounging on a mattress wearing a bra, panties and a flannel shirt while he lies next to her, shirtless. Then, she's seen tailing him in a car to a parking lot, where he meets another woman, and soon we seen him doing all the same things with her that he did earlier with Britney. Is it in the past, or in the present? It's not clear, but Brit discovers a text on the guy's phone with a message from "Cindy," saying that she's "thinking of" him.
In keeping with the lyrics of the song, we also see Brit in her underwear, spraying herself with perfume, in hopes that it will rub off on him, and that his girl on the side will smell it. "I'm gonna mark my territory," Brit sings in the mournful ballad, which she co-wrote with Sia .
According to the video's director, Joseph Kahn , there exists a director's cut of the "Perfume" video which is "extremely different" than the one that premiered on Tuesday. He's now urging fans to sign an online petition asking Britney's record label to release it. The main difference? Kahn tweeted , "The DC is a minute longer and there's a very shocking ending. But not what you think. I call it BREAKING BADNEY."
Copyright 2013 ABC News Radio