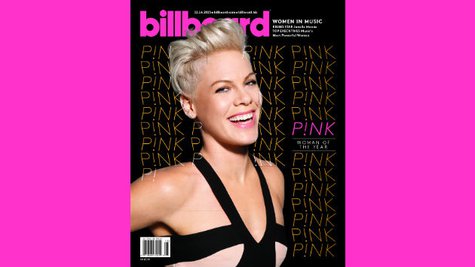 Pink is one artist who's had an amazing 2013, and she did it without twerking, or getting into a feud with another female singer, or even getting naked. That's one reason why Billboard will honor her as its Woman of the Year at a gala luncheon Tuesday afternoon in New York City.
"The shortest reason for why we picked Pink was Pink is awesome," says Billboard Editorial Director Bill Werde [wordy]. "I think...both in terms of her lyrics and her aesthetic and what she chooses to share with fans, [she] really demonstrates how positive messaging can still be wildly successful."
Not only that, says Werde, but Pink also makes brave artistic choices. By way of example, he cites "Try," her music video where she "clearly studied classical dance and created this incredible bit of performance art." Pink went on to stage that memorable "Try" dance duet live on stage during her tour, and at award shows. "I just think that takes a kind of courage that is exponentially beyond the sort of the courage it takes to wear almost nothing on stage," Werde explains.
Of course, in terms of sheer accomplishment, this past year has been a great one for Pink. Not only did she have a sold-out international tour, but her album The Truth About Love is the year's top-selling disc by a woman, according to Billboard. In addition, she co-starred in the movie Thanks for Sharing , and scored the biggest hit of her career with "Just Give Me a Reason," her duet with Nate Ruess of fun . that just landed several Grammy nominations. Nate will be on hand Tuesday to pay tribute to Pink, as will pop duo Tegan & Sara .
"For years I've been impressed by her songwriting, by her creativity, by her vision, by her sense of self, and by her dedication to her fans," Werde points out. "She's not someone who's gonna disappoint her fans who believe in her. And if she did, I'm sure she'd be the first person to call herself out on it, because it just seems that's the kind of woman she is."
Copyright 2013 ABC News Radio