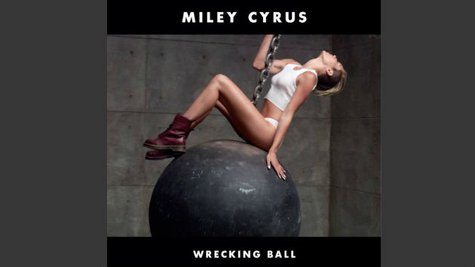 It's amazing what taking off your clothes and swinging around on a huge iron ball will do for your video views. VEVO has announced that Miley Cyrus ' "Wrecking Ball" clip was the site's most-viewed video of 2013.
To reach that conclusion, VEVO looked at all the videos that delivered the most global views across all its platforms. With more than 371 million views worldwide, "Wrecking Ball" was the year's top clip. You may recall that it set a record when it reached 100 million views in just six days after it was released in September.
And that's not all: Miley also has the second most-viewed clip of the year: "We Can't Stop" -- that has more than 310 million views.
Here's the rest of VEVO's top 10 most-viewed videos of 2013:
3. "Scream and Shout" by will.i.am ft. Britney Spears
4. "Diamonds" by Rihanna
5. "Roar" by Katy Perry
6. "Just Give Me a Reason" by Pink ft. Nate Ruess
7. "Blurred Lines" by Robin Thicke ft. T.I., Pharrell
8. "Stay" by Rihanna ft. Mikky Ekko
9. "La La La" by Naughty Boy ft. Sam Smith
10. "Kiss You" by One Direction
Copyright 2013 ABC News Radio