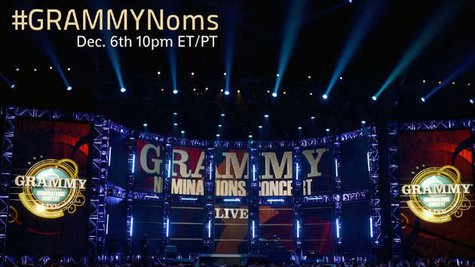 The nominations for the 56th Annual Grammy Awards will be announced live Friday night on a star-studded CBS TV special that will feature performances from the likes of Katy Perry , Robin Thicke , Taylor Swift , Lorde and more. And unlike past years, when a single artist dominated every category, experts think that the Recording Academy is going to spread the love this year.
"I don't think that this is a year where you're going to have an Adele-like phenomenon, because it really wasn't an Adele year," says Bill Werde [wordy], Billboard magazine's editorial director. "I mean, literally, it wasn't a year where one artist kinda swept everything in that kind of a way." Instead, he says, a handful of artists all did very well, and will be rewarded accordingly.
"This year I think you're really looking at artists like Taylor Swift, Bruno Mars , Justin Timberlake , that really were sort of strong from the beginning of the year to the end of the year," he tells ABC News Radio. " I think that those three artists, to the extent that they have eligible songs and eligible albums, will do really well."
The concept of eligibility is an important one. Only music that was released between October 1, 2012 and September 30, 2013 is eligible to be nominated Friday night. That's why, say, Taylor Swift's monster album Red , which came out last November, wasn't eligible for the Grammys that were handed out this past February, but is eligible for nominations this year. It's also why you won't see nominations for, say, Katy Perry 's album PRISM: it was released after September 30. Her single "Roar," however, was released in August, so it's eligible to be nominated.
Werde says that these days, Grammy voters are more likely to recognize these kinds of mainstream artists who've had huge success in the past year. In the past, Grammy voters have accused of focusing on veteran acts at the expense of pop stars, but Werde feels that's changed.
"I think that the Grammy voters have gotten a little more in tune with what's happening on the Billboard charts, frankly," he tells ABC News Radio. "So, yeah, I think, if you look at these artists that have had monster years, I think you're going to see them show up at the Grammy Awards this year."
However, young pop stars, as opposed to veteran acts, are the ones who are the most controversial, which brings us to the Miley question. Will Miley Cyrus ' musical accomplishments this year be enough to make Grammy voters forget her twerking, tongue-wagging antics? Werde says we'll have to wait and see.
"Miley Cyrus was arguably the pop story of the year, but that doesn't always sit well with Grammy voters," he explains. "Sometimes if you get known for spectacle, it doesn't matter how good your songs are, it doesn't matter how good your singing voice is. And in Miley's case, you know, she scores well on both of those, believe it or not. But I think people have paid so much attention to her antics at times that it's kind of eclipsed the fact that she's got some great music."
All will be revealed Friday night at 10 p.m. ET on CBS, during The Grammy Nominations Concert Live! -- Countdown to Music's Biggest Night.
Meanwhile, Yahoo!'s Chart Watch has made some predictions in the so-called "Big Four" categories: Album, Song and Record of the Year, as well as Best New Artist. It's important to note that Song of the Year goes to person who wrote the song, while Record of the Year goes to the artist and the producer. Here are the website's predictions:
Album of the Year
Likely:
Justin Timberlake, The 20/20 Experience
Macklemore & Ryan Lewis, The Heist
Taylor Swift, Red
Bruno Mars, Unorthodox Jukebox

Possible:
Drake, Nothing Was the Same
Lorde, Pure Heroine
Daft Punk, Random Access Memories
Florida Georgia Line, Here's to the Good Times
Record of the Year
Strong Contenders:
Lorde, "Royals"
Imagine Dragons, "Radioactive"
Macklemore & Ryan Lewis, "Thrift Shop"
Pink & Nate Ruess, "Just Give Me a Reason"
Bruno Mars, "Locked Out of Heaven"
Avicii w/Aloe Blacc, "Wake Me Up"
Florida Georgia Line, "Cruise"
Justin Timberlake, "Mirrors"
Daft Punk, "Get Lucky"
Possible:
Robin Thicke, "Blurred Lines" (not a lock because of the legal issues surrounding it)
Katy Perry, "Roar"
Taylor Swift, "I Knew You Were Trouble"
Miley Cyrus, "Wrecking Ball"
Rihanna ft. Mikky Ekko, "Stay"
Song of the Year
Pretty much an overlap with Record of the Year, except Macklemore & Ryan Lewis' pro-gay-marriage anthem "Same Love" will likely show up here, and not "Thrift Shop."
Best New Artist
Lorde
Imagine Dragons
Macklemore & Ryan Lewis
HAIM
Kacey Musgraves
Florida Georgia Line
Copyright 2013 ABC News Radio