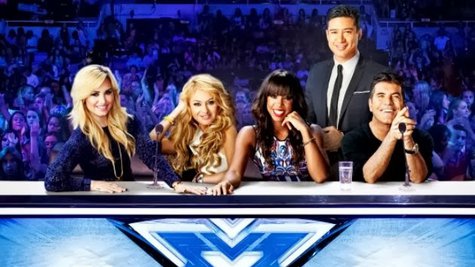 On Wednesday night's edition of The X Factor , the top six performed for the opportunity to advance to next week's semifinals. Only four of the acts will reach the penultimate round.
Each act took the stage twice, singing a hit by a popular diva and later delivering an "unplugged" performance.
As always, the judges' table was occupied by Simon Cowell , Demi Lovato , Kelly Rowland and Paulina Rubio .
The top six took shape on Thanksgiving night, when Josh Levi and Lillie McCloud were eliminated.
Here's what happened on Wednesday night's show:
Simon's country trio Restless Road presented their rendition of Taylor Swift 's "Red." Simon declared that Restless Road deserves to be in the finals.
After falling into the bottom two last week, Rion Paige of Demi's "girls" category tried to bounce back with Carrie Underwood 's "See You Again." Simon liked that Rion went back to her country roots, though he wasn't sure about the song choice. Demi said no one in the competition has fire in his or her eyes like Rion does.
Kelly's "Over 25" contestant Jeff Gutt applied his rock edge to the Mariah Carey song "Without You." Kelly yelped after it was over and said Jeff was "absolutely amazing."
Demi protégé Ellona Santiago sang Lady Gaga 's "Applause" as more of a ballad than as a dance-pop tune. Simon suggested he liked this version more than the original. Demi said Ellona has the ability to be a great role model because she has heart.
Simon dedicated Alex and Sierra 's song choice, the Destiny's Child hit "Say My Name," to Kelly, who was a member of the girl group. Kelly said she was shocked the duo was able to pull it off.
Carlito Olivero , a member of Paulina's "boys" category, tackled "Let's Get Loud" by Jennifer Lopez . Kelly and Demi weren't crazy about it, but Paulina said she was proud of him.
Restless Road kicked off the "unplugged" segment with a countrified cover of Avicii 's "Wake Me Up." One member of the trio, Colton , broke down in tears afterward, causing Demi to cry, too. Simon said if that performance doesn't earn them a ticket to the semis, something is seriously wrong.
Rion was up next with Thompson Square 's "Glass." Kelly and Demi both became emotional while listening to Rion. Simon said it was a lot better than her first performance.
Jeff Gutt was assigned "Daniel" by Elton John . He loved the pick because he has a brother, named Daniel, who serves in the Navy. Demi called it a "bit stale" and "anticlimactic." Simon agreed, though he liked the sentiment behind the performance.
Ellona took on Beyoncé 's "If I Were A Boy." Simon described it as her best performance to date.
Alex and Sierra returned to the stage with "Say Something" by A Great Big World . Kelly complimented them by saying it felt like an awards show performance. Demi thought it was beautiful.
Carlito closed the show with the Ben E. King classic "Stand By Me." Paulina and Kelly said it was his best vocal to date. Both Simon and Demi expressed how disappointed they will be if he gets the hook.
The results show airs Thursday night on Fox at 8 p.m. Eastern time. Season-two act Emblem3 will be on hand for an X Factor U.S.A. vs. X Factor U.K. battle.
Copyright 2013 ABC News Radio