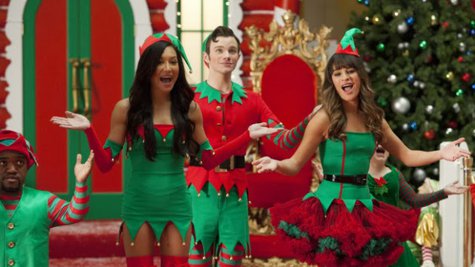 Last year, Glee didn't have a Christmas episode, so they're making up for it Thursday night by giving fans one that was supposedly filmed last year, but which never aired.
The show, titled "Previously Unaired Christmas Episode," will be introduced by Jane Lynch as Sue Sylvester, who will claim that Fox didn't allow it to air last year. Of course, it's all a lie: it's a new episode that is simply set in the past. It features many Christmas favorites, which are all collected on the series' latest holiday release Glee: The Music -- The Christmas Album Volume 4.
In the episode, Rachel, Kurt and Santana take jobs working as Santa's elves, while back in Lima, the kids audition for roles in McKinley's living Nativity scene. Among the songs featured: "Here Comes Santa Claus," "Rockin' Around the Christmas Tree," "Away in a Manger" and "The Chipmunk Song." Strangely, the Diana Ross & the Supremes' classic "Love Child" is included too, but it's apparently used as a reference to baby Jesus in the Nativity scene.
Meanwhile, in other Glee news, the show's creator, Ryan Murphy , tweeted that all the original cast members of the show have received invitations to appear on the show's upcoming 100th episode, which will air March 18, 2014. As for who has RSVP'd, Murphy says so far, newly crowned Dancing with the Stars champ Amber Riley , who plays Mercedes, is in, as are Heather Morris , who plays Brittany; Harry Shum Jr. , who plays Mike Chang; and Mark Sallis , who plays Puck.
Here's the song list for tonight's episode:
"Here Comes Santa Claus" (Gene Autry) – Rachel, Kurt & Santana
"Rockin' Around the Christmas Tree" (Brenda Lee) – New Directions
"Mary's Little Boy Child" (Boney M) – Marley, Unique, Tina
"The Chipmunks Song (Christmas Don't Be Late)" (The Chipmunks) – Rachel, Kurt, Santana, Cody
"Love Child" (The Supremes) – Unique, Marley & Tina
"Away in a Manger" – New Directions, Rachel, Kurt & Santana
Copyright 2013 ABC News Radio