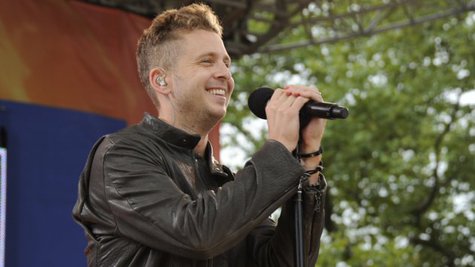 In addition to being the frontman of OneRepublic , Ryan Tedder is also Grammy Award-winning songwriter and producer who's crafted mega-smashes for Kelly Clarkson , Adele and Beyonce, just to name a few. But Ryan says one of his dream collaborations is a guy he's been wanting to work with for years, but hasn't been able to make it happen: Justin Timberlake .
Speaking to Billboard , Ryan says, "Hopefully at some point, another guy we've talked about for years and timing is Timberlake. I'm going to attempt to catch him on tour before he goes in to do another album. I think he and I could do something really, really cool. We've been friends about 10 or 11 years."
In addition, Ryan says he's talking to both Ed Sheeran and The Script about working together, as well as Ellie Goulding, Florence Welch of Florence & the Machine and, of course, Adele. "When I'm home I've been focused on Adele big time. She's just chilling for the moment, as she deserves to chill, but I'd love to do a song with [her collaborator] [Paul] Epworth and [her]," he says.
Ryan is also working on Beyonce 's album, the details of which remain a mystery. "I've got something on the next Beyonce [disc] that could be the biggest song I've been a part of in recent memory," he gushes, but adds, "I can't talk about it."
Copyright 2013 ABC News Radio