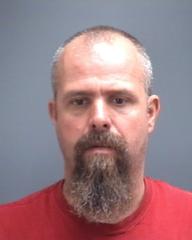 Tuesday morning Indiana State Police were called to the Pilot Truck Stop in Gibson County.
Police say that 43 year old Edward Raber of Sharon, PA, entered the shower facility without paying, defecated in the shower stall and then shoved an employee on his way out.
Employees used a camera to take pictures of Raber's Peterbilt tractor-trailer and its license plate as he drove away.
A short time later he drove back on the lot and hit one of three employees he aimed for and sped away.
Raber was arrested by state troopers a short time later.
Raber was taken to the Gibson County Jail where he is currently being held on bond.