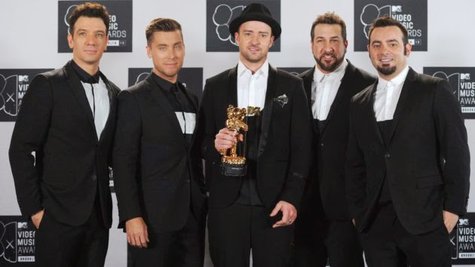 The ' N SYNC reunion at the MTV Video Music Awards on Sunday may have only lasted about 90 seconds, but it's certainly had an impact on the guys in the group whose names aren't Justin Timberlake.
Joey Fatone tells the Las Vegas Sun that when word got out that the group was reuniting, "My phone started ringing off the hook," adding, "It was definitely nostalgic. It brought us back to where we were in our lives, and reminded us about how huge MTV was in our careers."
Also hearing a lot of ringing is JC Chasez. E! Online reports that the singer and his team have been fielding "non-stop phone calls" since the reunion, asking him to get back into the studio and either make a new record or team up with other artists. A source tells E!, "Everyone saw that he can sing his ass off still, he looks great and he can dance. They remembered that he has an amazing voice, that he was 'N SYNC's soul guy."
Of course, both Joey and JC haven't exactly been living under a rock since 'N SYNC stopped performing together in the mid-nineties. Joey appeared on several reality shows, including Dancing with the Stars and its companion show in Vegas, and currently hosts a cable show on the LiveWell Network called My Family Recipe Rocks . He's also working on a new album.
As for JC, he made one solo album, Schizophrenic , back in 2004, and released two additional singles after that. He's also produced and written material for David Archuleta and The Backstreet Boys , and he judged Randy Jackson 's reality show America's Best Dance Crew for seven seasons.
But don't expect JC, Joey, Justin, Lance Bass and Chris Kirkpatrick to take their reunion on the road anytime soon. Joey tells the Las Vegas Sun , "As of right now, it's not in the plans. Justin is on tour through December and there hasn't even been a conversation about [it]."
He adds, "It was more or less something we did to be with Justin for this award. We haven't talked about it or anything like that, honestly."
Copyright 2013 ABC News Radio