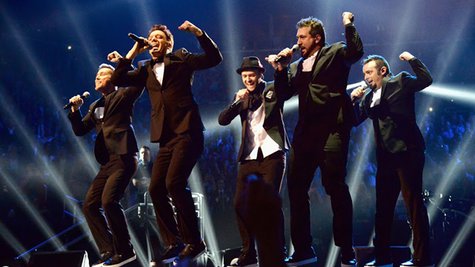 'N Sync fans were happy to see their favorite 90s boy band briefly reunite during Justin Timberlake 's performance on the MTV Video Music Awards Sunday night, though many -- including JT's band mates -- reportedly thought it was a little too brief.
During the segment, Timberlake sang a medley of his solo hits before joining the band for a few bars of "Gone" and "Girlfriend," then launching into "Bye Bye Bye." The original plan, however, was to include more 'N Sync songs.
A source tells Us Weekly , Joey Fatone , Lance Bass , Chris Kirkpatrick and JC Chasez were initially "upset" to learn that Justin shortened their segment, adding, "The guys wished it could have been more songs. He told them to trust him and he was going to make it great."
In spite of the disappointment, the source insists there's no bad blood between the guys, saying, "They loved being all back together. "It felt like the old days."
Justin did make a point during his acceptance speech for the Michael Jackson Video Vanguard award to point out that half of the VMAs he's won were with 'N Sync and that he was going to "share this with them."
After the show, UsWeekly reports all five members partied together well into the early morning hours, joining Beyonce , Rihanna and Drake at Jay Z 's post-VMA bash.
Copyright 2013 ABC News Radio