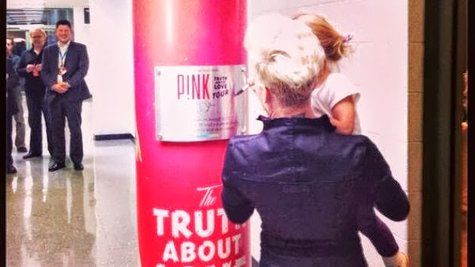 Even though Pink was a winner Sunday night at the MTV Video Music Awards, she wasn't in the house because she's been in Australia for weeks with her Truth About Love Tour. But her time there was well spent: she just set an all-time record for sold-out shows Down Under.
Back in 2009, Pink sold out an incredible 17 shows at Melbourne's Rod Laver Arena . But this week, she broke her own record, selling out 18 shows at the same venue. For her troubles, Pink received a special cake , which she said was too beautiful to eat, as well as a plaque which is permanently affixed to one of the poles inside the arena. It matches the plaque she received in 2009, which is still there on display.
"I'm overwhelmed with all the love and positivity Melbourne/Australia/Rod Laver Arena," Pink tweeted . "This has been an unforgettable experience for my family and I. We love you right back... Thank you thank you."
Copyright 2013 ABC News Radio