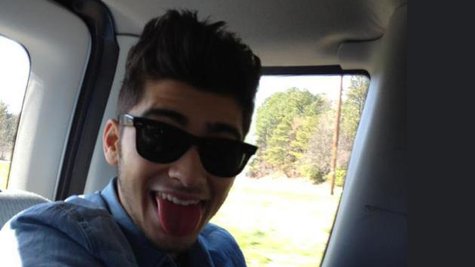 One Direction has a loyal fan in Lady Gaga , who offered the lads some advice after they were booed at the MTV Video Music Awards on Sunday night.
Some audience members at the Barclays Center in Brooklyn jeered after 1D won the song of the summer prize, for "Best Song Ever," though Zayn Malik insists he and his band mates didn't realize it at the time. He told ABC News Radio, "Actually when we went to go accept the award, we didn't actually hear any boos."
Zayn says that after their acceptance speech, they were greeted by Gaga. He recalled, "She just gave us a bit of advice and was like, 'If you did hear any boos, like, don't listen to anything that's negative because you deserve to be here,' and she also told us she was a big fan, which was really cool."
Zayn spoke to ABC News Radio in New York on Monday evening, from the U.S. premiere of the new One Direction movie, This Is Us . He said the film wasn't particularly challenging to make: "I wouldn't say there was really a stand-out thing that was hard. I think it was just in the beginning to kind of see where we were going to go with it, the direction the film was going to take, and just what kind of an angle we wanted to come at it with."
You can expect to see plenty of screaming girls in This Is Us . The mother of 1D's Liam Payne admitted Monday the group's enthusiastic fans can be a bit overwhelming at times. Karen Payne declared, "They really get to me. I find it really emotional that they're screaming for my little boy. But it's crazy, it's crazy. And they love Liam, and they love the parents so much as well. They're so nice."
This Is Us hits theaters this Friday.
Copyright 2013 ABC News Radio