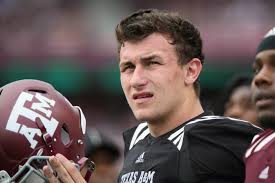 Texas A&M quarterback Johnny Manziel met with NCAA officials on Sunday about allegations that he received payment for his autograph.
Manziel spoke with NCAA officials for nearly 6 hours on Texas A&M campus. It is not clear on whether they will require another meeting with the star quarterback at a later date.
The controversy has been circulating for weeks from various reports stating Manziel was paid by several memorabilia dealers for his autograph.
Questions have come up on if Johnny Football will be suiting up against Rice in the Aggies season opener. Recent reports say that he might be kept off the field until the investigation is over, but Monday's team game notes listed Manziel as the starter.