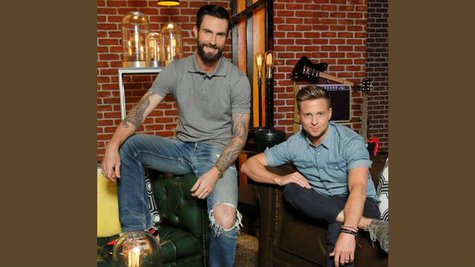 Maroon 5 's Adam Levine is becoming quite the TV mogul. Deadline.com reports that under his development deal with NBC, he's sold the network an idea for a comedy series based on his own life.
The website reports that the show is based on Adam's relationship with Gene Hong , a writer-producer who works on the show Community . The two have been best friends and roommates since before they both hit the big time. Hong will write the show's pilot episode and executive produce it with Adam . It's not clear if either man will appear in the show.
Back in 2011, Adam and Hong came up with an idea for an NBC comedy set in the word of karaoke bars, inspired by the fact that their friendship began in such an establishment. That has yet to hit the air.
In other Adam Levine news, E! Online reports that OneRepublic 's Ryan Tedder will be on hand to mentor Adam's team on the new season of The Voice . Ryan's a good friend of Adam and Maroon 5's, and in fact, he co-wrote their latest hit, "Love Somebody." He also recently served as a mentor on the Australian edition of The Voice.
Copyright 2013 ABC News Radio