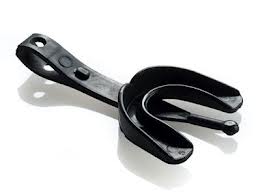 Studies show that a dirty mouth guard can carry two strains of microorganisms that cause both strep and staph infections.
A mouth piece becomes contaminated when a player places it on the bench or drops it on the sideline. The mouth guard then acts like a sponge soaking up the contaminants.
A chewed up mouth guard could be even worse. The rough edges could rub the gums or tongue making it easier for germs and bacteria to enter the bloodstream.
The different molds and bacteria found on most mouth guards could be dangerous to a player's health. If inhaled the molds could cause asthma-like symptoms causing respiratory infection.
It is recommended that players replace their mouth guard at least once if not twice a week just to be safe.