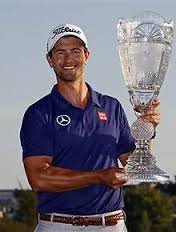 Adam Scott came out on top at the Barclay's over the weekend.
Tiger Woods struggled in the final-round. He encountered some back pain during a shot on the 13th.
But Woods was still in the hunt at the end. He was one stroke off the lead on the final hole with a chance to catch Scott but his put fell just inches shy of the cup.
Adam Scott took the FedEx Cup playoffs opener as he finished with a one shot lead -11 66.
Woods finished with a -10 69.