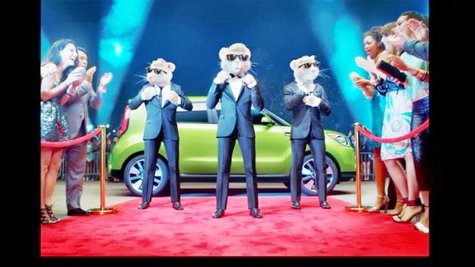 Well, that was quick: Lady Gaga 's single "Applause" just came out, and it's already being used in a commercial.
The song is the soundtrack to a new extended ad for the Kia Soul. In the ad, the hamsters who normally appear in ads for the car are seen trying to whip themselves into shape by lifting weights, doing cardio, swimming and other exercises. The idea is that they're getting makeovers, just like the new 2014 Kia. At the end of the clip, the three newly skinny hamsters arrive at a red carpet premiere in their new Kia, wearing tuxes and shades and looking fabulous. "Totally Transformed," reads the tagline.
Linking to the commercial, Gaga tweeted , "This is exactly my hip rehab gym routine." She was joking about the physical therapy she had to go through after having surgery on her hip earlier this year.
A 60-second version of the spot will debut immediately following Lady Gaga's performance at the MTV VMAs on Sunday.
Copyright 2013 ABC News Radio