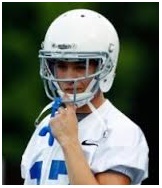 John Mellencamp's son Hud will continue to practice with the Duke football team while he is dealing with felony battery charges in Indiana.
The sophomore cornerback for the Blue Devils along with his younger brother Speck and a 19-year-old entered a man's home in Bloomington, Indiana and punched, kicked and stomped the man sometime last month.
The victim suffered numerous facial injuries.
Hud Mellencamp surrendered for arrest earlier this week and was released on bond.
Duke's head football coach David Cutcliffe says Mellencamp will remain active in practice and will let the legal process occur.