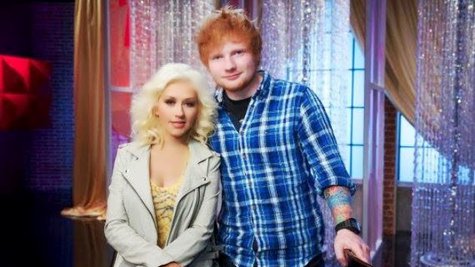 They may seem like an odd couple, but Ed Sheeran will be helping to mentor Christina Aguilera 's team this October when The Voice heads into its "Battle Rounds" episodes. And Christina says she thinks that she and Ed may end up collaborating off camera as well.
Asked by Extra if they would be open to singing together in the future, Christina said, "I see a collaboration in the works, hopefully. I would love to collaborate with this guy. He's super-talented!" Ed offered that he's done some "neo-soul" songs, if Christina "wanted to get back into that." Christina then revealed that Ed prefers the sound she created on her albums Stripped and Back to Basics . "That was the stuff!" he confirms.
As for his involvement in The Voice, Ed says at first he was hesitant to get involved with the show. "I didn't know what I was getting into," he tells Extra. "I didn't want to be too brutally honest, as British people usually are." He adds, "I remember when I first started out, if someone had said to me, 'It's not very good,' it would've hurt, y'know?"
Luckily, Ed found that the atmosphere on the set of The Voice was very "positive," so he felt better about it. And Christina says that all the contestants were "dying" when they found out Ed would be their mentor. "I'm like, 'OK, I am secondary right now!'" she laughs.
Copyright 2013 ABC News Radio