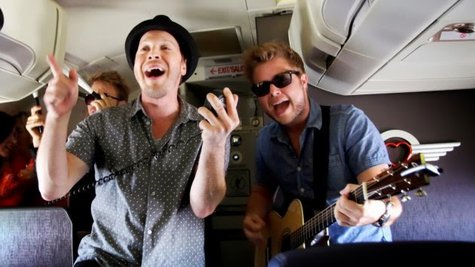 Gavin DeGraw sang really, really high Wednesday....literally. He serenaded passengers aboard a Southwest Airlines flight from Phoenix to Los Angeles...while the plane was 35,000 feet in the air.
Gavin was participating in Southwest's "Live at 35" program, which features artists singing for passengers during a flight. He and a few of his band members took over the plane's P.A. system for renditions of his new single, "Best I Ever Had," as well as his hit "Not Over You." According to DailyBreeze.com , many of the passengers admitted that they'd never heard of Gavin before, but the experience turned them into fans, despite the less-than-ideal acoustics on board the plane.
Afterwards, Gavin posted on Facebook, " Flying 35,000 feet never sounded so good. Thank you Southwest Airlines! " He also retweeted the videos and photographs of the event posted by all his new fans.
Copyright 2013 ABC News Radio