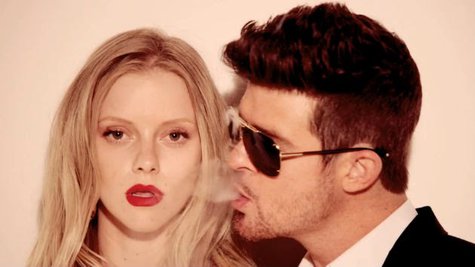 Robin Thicke 's done quite a few performances of "Blurred Lines" on TV at this point, so how can he make his performance at this Sunday night's MTV VMAs special? Simple: hot girls.
Showbiz411.com reports that Robin is teaming up with Diane Martel , who directed his headline-grabbing NSFW "Blurred Lines" video, to recreate the whole thing live onstage at the awards show. The website reports that Martel has put a casting notice out for "stunning models, 18-25," who'll be part of an "amazing Live performance -- guaranteed the hottest exposure."
Of course, it's doubtful that the models will be topless on MTV. If they are, their lady parts will most certainly be blurred so home viewers can't see them.
"Blurred Lines" is nominated for Video of the Year, Best Male Video and Best Collaboration, as well as for Best Song of the Summer.
Copyright 2013 ABC News Radio