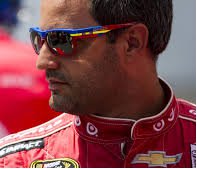 Juan Pablo Montoya may be back in Indy Car next year.
After finding out Montoya would not be re-signed to Chip Ganassi for an eighth season in 2014 Michael Andretti of Andretti Autosport talked with the Columbian driver and is interested in finding him a sponsor.
Montoya wouldn't confirm which teams he had talked to but word has it Andretti is interested in hooking him up although there is one problem. Andretti Autosport has a couple young drivers they may resign in James Hinchecliffe and young Columbian Carlos Munoz. Munoz grew up a Montoya fan and finished second in the Indy 500 this year. Andretti says there is still a possibility of running 5 cars as long there is a properly funded deal.
Montoya hasn't been in open wheel racing since he left Formula 1 in 2006 to join Ganassi in NASCAR. He won 11 races in 1999 and 2000 in CART driving for Ganassi. Montoya also won the 1999 CART Championship and the 2000 Indianapolis 500.