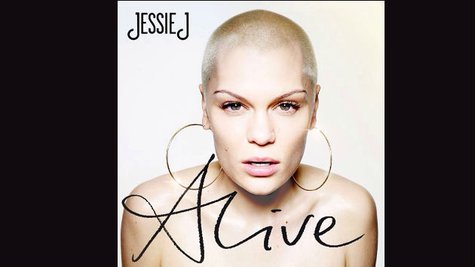 Over the weekend, Jessie J revealed the title and artwork for her long-anticipated sophomore album. The disc is called Alive, and the album cover shows Jessie wearing enormous hoop earrings and sporting cropped platinum blond hair, which is still growing out after she shaved it off earlier this year for charity.
Jessie says the album will be out September 23 in the U.K., which probably means that in the U.S., it'll arrive September 24. As for the track listing, she says one that's floating around online and purports to be authentic is, in fact, fake. It shows collaborations with Robin Thicke , Brandy , Tinie Tempah and T-Pain , among others.
"This is hilarious. So far from the truth. This is NOT real," she wrote on Instagram . It's not entirely clear which part of the fake track listing is "far from the truth" -- the song titles, the guests or both.

Meanwhile, Jessie has a song featured on the soundtrack of the new movie Kick-Ass 2. It's called "Hero" and a lyric video is also available.
Copyright 2013 ABC News Radio