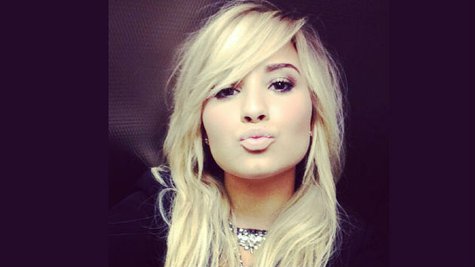 A few weeks ago, Selena Gomez turned 21, and now her friend and fellow ex-Disney star Demi Lovato is reaching that milestone as well: she turns the big 2-1 today.
The multi-talented entertainer has a lot to celebrate. After overcoming personal struggles and bravely sharing her story with fans, her career has never been hotter. Not only is she about to start her second season on X Factor, but she's just landed a major story arc on the upcoming season of Glee , and her current album, Demi, continues to churn out hits, the latest being "Made in the U.S.A."
A huge part of Demi's career resurgence can be traced to her previous album, 2011's Unbroken , which announced her return to the scene after she took time out of the spotlight to enter treatment. That album's lead single, "Skyscraper," became her first platinum single and last year, it won her the MTV VMA for "Best Video with a Message." Though it documented Demi's personal journey, it's became an anthem for fans who were struggling with their own difficulties.
"I can't even fathom how it's helped a lot of people," Demi told ABC News Radio. "I hear so many people, they come up to me and say things like 'You saved my life' and 'You inspired me to get help,' and that just blows my mind."
Demi says that helping people through her music is something that's very important to her. "You know, it's not my duty and I don't feel like I have to do it. I just want to," she told ABC News Radio. "I feel like there's more to life than, you know, just singing and I feel like God gave me a voice for a reason, and I want to help people with it."
Copyright 2013 ABC News Radio