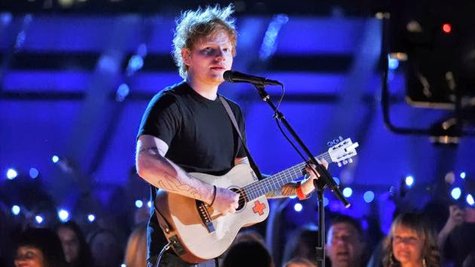 Ed Sheeran has performed at New York City's famed Madison Square Garden several times, but it was always as either an opening act, or as part of a multi-artist lineup. But now, he's just announced a gig at the legendary venue that's all him.
"I am playing madison square garden on november 1st.. Stay tuned for more details.." Ed tweeted . "My dad always said you haven't made it til you've played MSG so it's a massive honor. "
Ed's buddy Harry Styles of One Direction reacted to the news by tweeting, "Can I come?" To which Ed replied , "of course, I'd be offended if you didn't." Tickets go on sale this Friday at noon ET, though fan club members can get them starting Wednesday at noon ET. A second pre-sale takes place Thursday at noon ET. Visit EdSheeran.com for more info.
Since Ed's spent all summer performing in massive stadiums with Taylor Swift , handling a big venue full of fans on his own shouldn't present a problem for the singer/songwriter. Asked his strategy for reaching those fans in the back row when he's playing a huge gig, Ed tells ABC News Radio. "I just try to entertain at a stadium, I think. You can't really have an intimate atmosphere there, so yeah...[be] entertaining."
November is around the time that Ed said he'd be working on getting his new album together; he's already said that he plans to release new music in January. The British star had previously stated that he'd written and recorded 40 tracks for the project. So how can he narrow them down to just nine or ten?
"You just listen to them a lot," he tells ABC News Radio. "And the ones that stick out, I guess the ones that have the most play count on your iTunes are the good ones!"
Copyright 2013 ABC News Radio