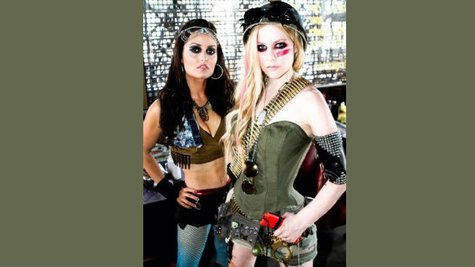 It's Katy Perry who's famous for kissing girls, but Avril Lavign e aims to give her a run for her money in her new video for "Rock N Roll." The newly-married singer plants one on actress Danica McKellar -- aka Winnie Cooper from The Wonder Years -- in the clip, but that's not even the craziest thing that happens in the absolutely bonkers video.
The video starts with Avril answering an obviously product-placed cell phone and quoting the lyrics to her song "Sk8er Boi," but then it plunges into a partially-animated adventure that takes place in a post-apocalyptic landscape. Avril and Danica, who's playing "Winnie Cooper," are dressed in quasi-military gear and face off against a mysterious gas mask-wearing figure in a diner. As he escapes, he throws a lobster to the floor, and the ladies end up having a knife fight with it. Yes, we said a knife fight with a lobster. But wait, it gets better.
Avril and Danica take off after the bad guy in a car driven by a German shepherd. It smashes into a tree and the pooch dies, leaving Avril and Danica to argue about how they shouldn't have let him drive because he had a drinking problem. Then, the music stops, the two distraught girls start smooching, and we hear Avril say in a voice over, "It was the first kiss for both of us. We never really talked about it afterwards, but I think about the events of that day again and again, and somehow, I think Winnie does too."
Next, we see Avril in a funeral parlor, mourning the dead dog, but suddenly, a guitar equipped with a power saw blade emerges from the coffin. That comes in handy later, when Avril again faces off against the mysterious gas mask-wearing figure, who rips off his costume to reveal that he is, actually, a bear shark. That is to say, a bear, with a shark's head and fins. Told you the clip was bonkers.
Avril fights the bear shark with her deadly guitar and kills it, at which point actor Billy Zane appears riding a Segway. He gives Avril the thumbs-up and then blasts off into space, as the credits roll. So yeah, that happened .
The single "Rock N Roll" will be available at digital retailers on August 27.
Copyright 2013 ABC News Radio