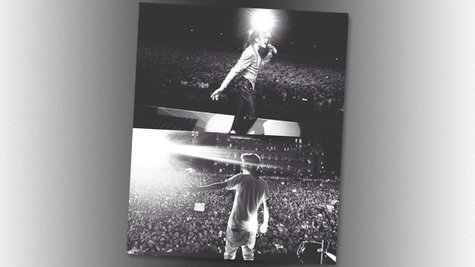 A song featuring Michael Jackson and Justin Bieber called "Slave to the Rhythm" was leaked online Friday. The song was originally a solo track by the King of Pop that leaked soon after his death in 2009.
The origin of the remix is unclear, but Justin certainly likes the collaboration. The singer tweeted : "He set the bar high," and he posted a photo of himself performing in front of a large audience and a separate photo of Michael doing the same thing.
On Friday, Justin tweeted, "Excited for what is to come. MJ set the bar. Not only for music but for being an entertainer and how u treat the fans. Wish he was here…" He then wrote: "MJ. The greatest of all time. #fact."
Meanwhile, Justin's mother Pattie Mallette says that she's still getting adjusted to her son being a 19-year-old adult. She explains to People.com , "When your kids hit a certain age your parenting style changes and it is hard letting go. His life was my life and now I've had to let him go a little bit and let him be independent. It is hard to not be able to control everything that your adult child does."
Mallette adds that she tries to stay in touch with her son as much as possible while he is on his world tour. She says, "Every parent worries. I text and call him every day. I definitely want to know everything that he is doing and what he is going through so I try to talk to him as much as he'll let me. I mean, he's on tour and being pulled in a million different directions but we talk as much as he is able."
Copyright 2013 ABC News Radio