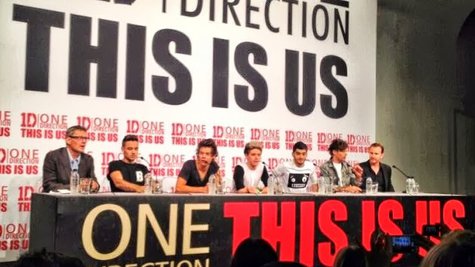 One Direction's movie This Is Us will premiere in London on Tuesday night, and at a press conference in London on Monday, the group addressed questions about whether or not the film will spawn a sequel.
According to the British paper The Independent, Liam Payne answered by saying, "I think at the moment we just want to see how this one goes, to be honest with you. It's so nerve-wracking making the film and stuff...I don't know, maybe we'll see how this one goes, see if people like it."
The group said one advantage of having famed filmmaker Morgan Spurlock create a documentary about them is that they now have a permanent record of all the crazy stuff they've been through since they shot to stardom. "Because so much is happening to us you kind of just lose it all," said Louis Tomlins on. "It's great just to sit back and watch it back and remember and relive those moments."
Another advantage, said Harry Styles , is the opportunity for fans to really get to know them. "We just want to show what we're about and with social media and stuff there's only so much you can get across in terms of your personality," he said at the press conference.
Asked why there was no sex or drugs shown in the film, Harry joked, "This is a family press conference!" To which Louis added, "We like to think we're rock 'n' roll but we're not, really."
As for Spurlock, he said that the movie will show how "normal" the five 1D guys are, adding, "There is no air of superiority, there is no air of success that permeates this movie," he explained. "You see five guys who are the same five guys they were three years ago."
According to the Daily Mirror, Liam also revealed at the press conference that at one point, they considered kicking Zayn Malik out of the band when they were first put together because he was late all the time. He added that it's still a pain trying to get him out of bed in the morning.
Copyright 2013 ABC News Radio