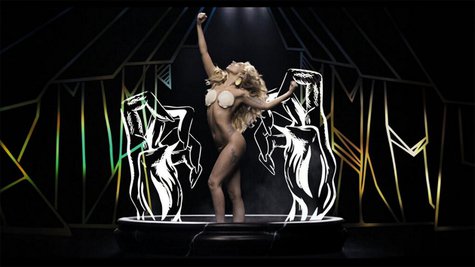 The streets of New York City's Times Square were lined with throngs of Lady Gaga fans Monday morning as Gaga debuted the video for her new single, "Applause," exclusively on ABC's Good Morning America .
An elegant Gaga arrived in style, walking past fans to the GMA Times Square studios, but taking time to sign photos along the way. She rocked an all-white, very retro outfit consisting of a bias-cut miniskirt, low-cut blouse, and a stiff, cape-like shawl, finished off with mid-calf lace-up boots in a dark taupe, and white gloves with all but the index fingertips apparently snipped off. The big surprise was the new, neck-length bob she sported, dyed a honey blonde with lighter streaked highlights. She also wore very minimal makeup, looking fresh-faced enough to attend church.
Inside the GMA studio, Gaga sat for the interview on the oversized chair made of computer circuit boards that's been featured in promo images over the past few weeks. She didn't reveal much as fans outside the studio pressed against the glass behind her, but one interesting note was how she arrived at the smeared clown makeup she wears on the "Applause" promo image. Gaga said it was supposed to be straight-up clown makeup, but that she smeared it herself in a gesture of sadness when she realized how much she's missed her fans in the downtime while she was making ARTPOP , and also recovering from hip surgery.
After a break, it was Gaga on the roof with George Stephanopoulos and Lara Spencer , where the crowd on the streets below counted down from ten to one, and Gaga -- now also wearing a variation of the white video face frame she's worn in promo images -- pressed a big red button, and the "Applause" video lighted up the video screens in Times Square.
The video itself was everything we've come to expect from Gaga, with lots of dancing interspersed with layers of imagery and bizarre costumes that included the smeared clown makeup; Gaga's head superimposed on that of a giant black swan; a witchy diva in purples and greens, emerging from smoke and glitter; Gaga in a black frilled bikini with other dancers; Gaga in a long blonde wig with a seashell bra; and Gaga in a black bodysuit and skullcap.
Minutes after the "Applause" video debuted on Good Morning America , it was posted on Gaga's Vevo page. ARTPOP arrives at the usual retailers later this year.
Copyright 2013 ABC News Radio