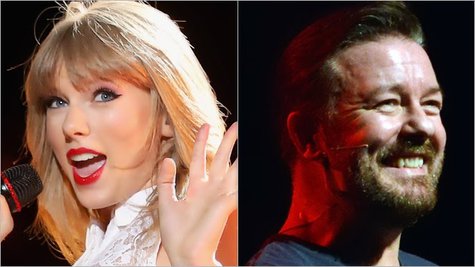 If you were going to compare Taylor Swift to someone, a fifty-something British man probably isn't the one you'd pick. Yet that's the comparison that Taylor's friend Ed Sheeran made recently when talking about the pop superstar.
Asked by E! News to reveal something about Taylor that might surprise us, Ed, who's British, said, "She has the most English sense of humor out of any American I've ever met." He added, "She's just dry. She has a very dry sense of humor, and Americans are usually like, slapstick comedy, that's the big thing. But she's very English."
He added, "She's like The Office . English Office. Not Steve Carell -- Ricky Gervais ."
British comedian and actor Ricky Gervais co-created, wrote and directed the original British version of The Office , and also played the lead role of the general manager of a paper company in England. When the show was reworked for American audiences and aired on NBC, Steve Carell took on the starring role.
Taylor is definitely a fan of comedians, and in an article for Marie Claire magazine recently, she even named two of them as her ideal dinner guests, though they weren't British -- she picked Will Ferrell and Conan O'Brien .
Copyright 2013 ABC News Radio