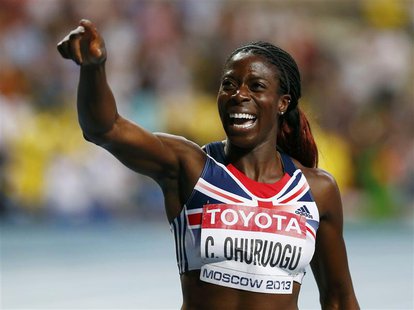 By Alison Wildey
MOSCOW (Reuters) - Christine Ohuruogu produced an astonishing late charge and defending champion Amantle Montsho committed racing suicide as the Briton won the world 400 meters gold medal by four thousandths of a second on Monday.
Ohuruogu, the former Olympic champion, is famed for her storming home-straight finishes but even she looked out of it as Botswana's Montsho entered the final 30 meters well clear.
Ohuruogu, however, somehow closed the gap and timed her dip to perfection as Montsho crossed the line entirely vertical having failed miserably to follow the advice given to all athletes from the day they begin competing.
Nobody in the stadium knew who had won but after an anxious wait it was Ohuruogu's name which came up on the board first.
Montsho, looking stunned, was given the same time of 49.41 but the Briton won by four thousandths of a second and broke the 29-year-old British record in the process.
"I can't believe I've done that, it feels like a dream," she told reporters.
"I was thinking 'do what you can, just get over the line'. The icing on the cake is the national record, that's all I wanted. Whatever you want just go for it, I am really happy I kept believing and trusting in what I could do.
"It is what I have been working towards all season, it was so tight on the line and I was so desperate to win it. I just wanted my name to come up."
Montsho will long live to regret her failure, unforgivable for such an experienced athlete and doubly so when the most famous come-from-behind runner on the circuit was chasing her home.
"I always have a bad finish. I don't know how to dip in a race," she said.
"I didn't see Christine when she came. If I saw her I could maybe have put my chest out and made it."
Ohuruogu, world champion in 2007 and Olympic gold medalist in 2008, had looked trimmer in Moscow and qualified for the final looking so comfortable that the personal best she almost certainly needed was on the cards.
She started steadily as usual and was still fourth coming off the final bend.
She then went through the field, passing bronze-winning Russian Antonina Krivoshapka (49.78) as if she was going backwards.
With five meters to go it still looked an impossible task yet she somehow achieved it to underline her status as one of Britain's all-time greats.
"It all came together in this race," former men's 400m Olympic champion Michael Johnson told the BBC.
"Every 400m runner knows that Christine Ohuruogu is going to be dangerous on the home straight. I don't know why Montsho didn't realize that at the end.
"But three meters from the finish line she wasn't even in it. It was doing things in the right way that won it. You can see the determination on her face she wasn't going to leave anything on the track. She wanted it more."
(Additonal reporting by Mitch Phillips, editing by Ed Osmond)