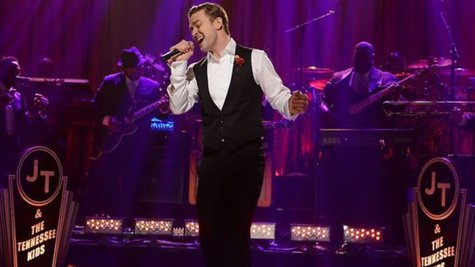 OK, Justin Timberlake may not be as generous a tipper as Taylor Swift , but he's not stingy, either. He left a $100 tip during a visit this week to a seafood restaurant in Baltimore.
The Batimore Sun reports that JT dropped by Phillips Seafood restaurant this week when his Legends of the Summer tour with Jay Z pulled into town. He was with four other people, and they ate in the restaurant's private dining room. Among the items he ordered: the $84 "clam bake for two," which comes complete with two lobsters, snow crab legs, shrimp, claims, mussels, potatoes and corn on the cob.
According to the paper, the bill came to $300, and Justin tipped $100, which comes out to just under 35 percent. By comparison, when Taylor Swift and her buddies ate at an Italian restaurant in Philadelphia recently while on tour, she tipped about 63 percent, plus gave the chef free concert tickets, plus posed for photos with the restaurant staff.
Who else wants to play the celebrity summer tour restaurant tipping game? Bruno Mars , Train , Maroon 5 and Kelly Clarkson , it's your move.
Copyright 2013 ABC News Radio