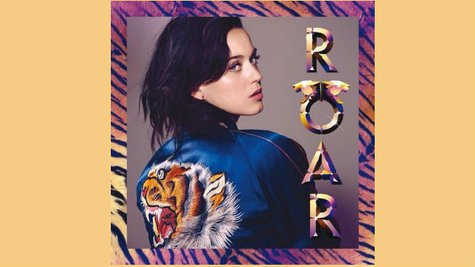 It's official: Katy Perry 's leaving her candy-colored clothing behind for a totally new image. You can see it in the artwork for her upcoming single "Roar," due out August 12.
Katy revealed the artwork on Thursday by tweeting to her U.K. fans asking them to to pre-order the song on iTunes. The art shows a dark-haired Katy, her back to the camera, looking over her shoulder. She's wearing a blue satin jacket -- or maybe it's a robe -- with a roaring tiger embroidered on the back. There's also an animal print border, and to hammer home the point even further, the "o" in the word "Roar" has roaring cat heads on it.
This could, of course, just be the artwork for the U.K. release of the single, but so far, that's all we've got.
"Roar" is the lead track from Katy's much anticipated album Prism, which is due October 22.
In other artwork-revealing news, Avril Lavigne has unveiled the cover of her upcoming album , which will be self-titled. The cover shows Avril, with her hair up, posed against a black background, staring straight ahead with a glazed look in her eyes and no expression on her face. Her eyes are ringed with tons of smudged black eyeliner, giving her a racoon-like look.
" Thanks to all my fans for the amazing support! Here's an exclusive look at the cover of my new, self-titled album!" she wrote on Facebook . No word on the release date yet.
Copyright 2013 ABC News Radio