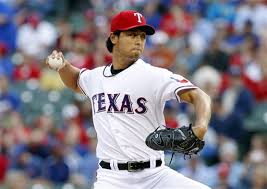 Starting pitcher and phenom Yu Darvish made history on Thursday.
Darvish took to the mound against the Arizona Diamondbacks and struck out an astonishing 14 batters for the fourth time this season.
Darvish had no walks allowed just 5 hits and threw 78 strikes with 111 pitches through 7 scoreless innings.
It marks the 16th time this season Darvish has fanned 10 batters in a game.
Dwight Gooden is the only other pitcher since 1900 with more 10 K games in his first 50 starts with 20.