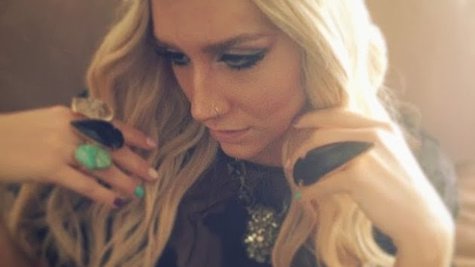 Admit it: what your jewelry collection has been missing all these years has been items shaped like male genitalia. Well, thanks to Ke$ha , you no longer have to go without them.
Ke$ha's just launched her debut jewelry collection, Kesha Rose by Charles Albert , and some of the designs are a bit "out there," just like her. There are several different mini-collections within the entire line: for example, the " Cannibal " collection features designs based on human teeth , while the " Out Alive " collection features black skulls and roses. But it's the " Grow a Pear " collection that's the most scandalous -- that's the one featuring designs based on male "equipment."
Among the styles available are drop earrings, post earrings, rings, necklaces and pendants, all featuring the same gold-colored, er, junk. They're all pretty affordable, priced from $12 to $20, so there's no excuse for you not to wear some naughty bits around your neck. Unless, of course, you plan to wear it in front of your mom, in which case we'd say skip it.
You can purchase the designs at KeshaRose.com .
Copyright 2013 ABC News Radio