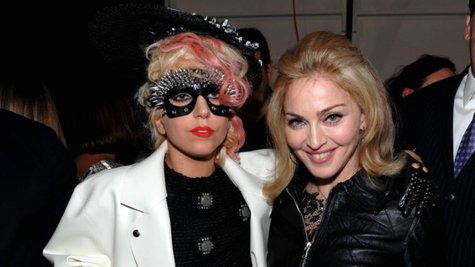 Both Madonna and Lady Gaga caused controversy when they toured in Russia last year, because the city of St. Petersburg has a law against "gay propaganda" and both women spoke out in favor of gay rights on stage. But now it turns out the stars may actually be in trouble for something more mundane: not having had the correct paperwork to play in there.
Britain's Guardian newspaper reports that Russian officials are considering prosecuting both Gaga and Madonna because neither of them obtained the correct visa to perform there last year. Both of them were in Russia under what's called a "cultural-exchange visa," but it seems those particular visas don't give you the right to "engage in any commercial activity" while you're there.
In other words, you can bring your music to Russia, but you can't rake in millions of rubles from ticket sales.
Now, reports the Guardian, prosecutors are considering asking officials to press charges against Gaga and Madonna, and it turns out their pro-gay stances are indirectly responsible for this. The visa issue was uncovered only after Vitaly Milonov , the guy who wrote the law against "gay propaganda," asked prosecutors to investigate the two stars. He already tried to prosecute them for violating his "gay propaganda" law, but he was unsuccessful.
Concert promoters in Russia are now concerned that if Gaga and Madonna are fined for their violation, no western performers will ever come perform in their country again. Stay tuned.
Copyright 2013 ABC News Radio