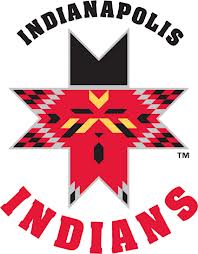 The Indianapolis Indians wrapped up a four game series with the Gwinnett Braves at Victory Field on Monday night.
With the game tied 1-1 in the bottom of the 7th inning the Indians took advantage of poor pitching from the Braves. After a few hits and a couple walks the bases were loaded with 2 outs when pinch hitter Brian Jeroloman came to bat. Jeroloman worked the count full and watched the sloppy 5th pitch sail by for a RBI walk giving Indianapolis the 2-1 advantage.
In the 8th the Indians added another run to the scoreboard with a RBI double from Jared Goedert.
Indianapolis gave away one run in the top of the 9th but held on for the win.
The Indians beat the Braves 3-2.
Indians pitcher Andy Oliver had a great outing allowing just one earned run in 6 innings.
Oliver is 1-1 on the season with a 3.34 ERA.
Indianapolis will begin a 4-game series at the Lehigh Valley Iron Pigs on Thursday.