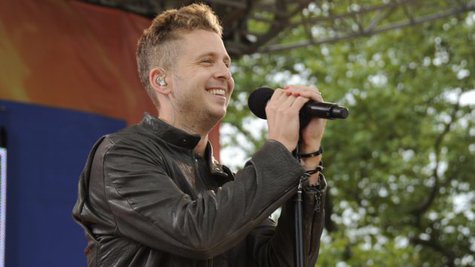 Now that their long-awaited new album Native is out, OneRepublic is dedicating their time to promoting it all around the world. But when things slow down a bit, the band's Grammy-winning lead singer, Ryan Tedder , says he may just be interested in sitting down for a bit -- perhaps behind the table on a reality TV singing competition.
Ryan was asked to be an advisor for one of the coaches on The Voice Australia, and his episodes just finished airing. He says he enjoyed the experience so much that he might be willing to consider something more permanent.
"After we've worked [the album], like, done our thing on it, then who knows? I would, for the first time ever, say I'd be open to it," Ryan tells ABC News Radio. "Only because I spent a week down in Australia mentoring and actually I enjoyed the hell out of it."
Ryan says he liked the mentor role because, as he explains, "on one hand, I could talk to them from an artist perspective, but then on the flip, I'd talk to them from the producer-writer perspective, and it was like employing kinda everything. I really enjoyed doing it."
When he's ready, Ryan could probably have his pick of what show he'd like to be on, because, as he reveals, they've already contacted him about it. "There's a couple shows, I won't say which ones -- some here and ex-U.S. -- that asked me to be judges or coaches or whatever you would call them," Ryan says. "At the time, I was halfway through this album and I, literally, told my manager, 'If I agree to this, my band will leave! Like, they will just start another band!'"
The singer, who's produced and/or written hits for the likes of Beyonce , Leona Lewis , Kelly Clarkson and Adele , certainly has a lot to bring to the judges' table of any show, but he says he's not actively looking for a gig right now.
"I'm not pursuing that whatsoever," he insists. "I mean, we have an album and two years of touring, but I'm just saying I had enough fun doing it [in Australia] that I kind of surprised me."
But how would the rest of OneRepublic react if Ryan did decide to go off and join American Idol , The X Factor or The Voice , either in the U.S. or elsewhere? "Oh I don't know," jokes guitarist Zach Filkins . "I'll call some of the guys in Maroon 5 and ask them how I should feel about it!" Maroon 5 frontman Adam Levine is, of course, a judge on the U.S. version of The Voice .
OneRepublic wrap up an overseas tour Monday night in Dublin, Ireland; they'll kick off the U.S. leg of their Native tour in July.
Copyright 2013 ABC News Radio