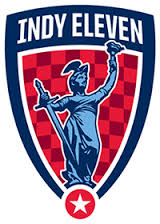 The professional soccer team that is slated to begin play in Indianapolis in 2014 has been named the Indy Eleven, Indy Pro Soccer announced Thursday.
The team will be in the North American Soccer League, and the team colors are red, white and blue.
The team said the name is intended to pay homage to the state's history, referencing Indiana's 11th Regiment in the Civil War.
The team's crest features a statue of Victory, which sits atop Monument Circle.