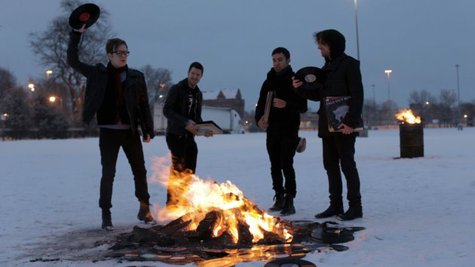 Fall Out Boy , Imagine Dragons , fun. are among the performers taking part in next month's Yahoo! On the Road tour. Entertainment correspondent Ben Lyons will host the trek, which will also feature an interactive tour bus outfitted with Yahoo! products, and will crisscross the U.S. through May 31 before heading on to Europe later this summer.
Fall Out Boy will perform in Madison, Wisconsin on May 13, while Imagine Dragons will take the stage in St. Louis, Missouri on May 15. fun. will close out the tour with a show in San Francisco on May 31. Other notable performances include Macklemore and Ryan Lewis in Milwaukee, Wisconsin on May 12 and The Lumineers in Boise, Idaho on May 28. Tour stops in Germany, France, Italy, Spain and England are planned during June and July. Artist announcements for the European leg of the tour will soon be revealed.
Concert tickets are free and on a first-come, first-served basis. To be eligible, all you have to do is check the schedule for tour bus stops, download an app or upload a Flickr photo. A few tickets will also be made available online , along with online streams of the events. More info will also be posted on Twitter at YahooOnTheRoad . You can find the complete tour schedule on Yahoo!
Copyright 2013 ABC News Radio